And here starts the next half of my vacation!

In fact, like I mentioned, Rome was only 3 days. But I took enough photos for it to warrant its own entry. The rest of this is Albania and Greece. The trip went like this: Vlora, Albania > Tirana, Albania > Vlora, Albania > Korça, Albania > Pogradec, Albania (only for a few hours, and I have no pictures of it) > Korça, Albania > Athens, Greece > Korça, Albania. And from there we left on our final trek home.

But of course I'll label the photos, as I did before. Once again, I apologize for the sizes if they bother you, but I think at least some of these are worth the look.
And again, not all of my photos are posted here--only the ones that I particularly liked and are of interest (just to conserve my bandwith and keep from clogging the entry). If you want to see all of them, head over to my Photobucket album (Albania/Greece starts in the middle of page 3)--you have comments there to explain what each one is as well.

~~~~
The view from our 9th-story apartment in Vlora, Albania, at sunset. Taken on the first day we arrived in Albania.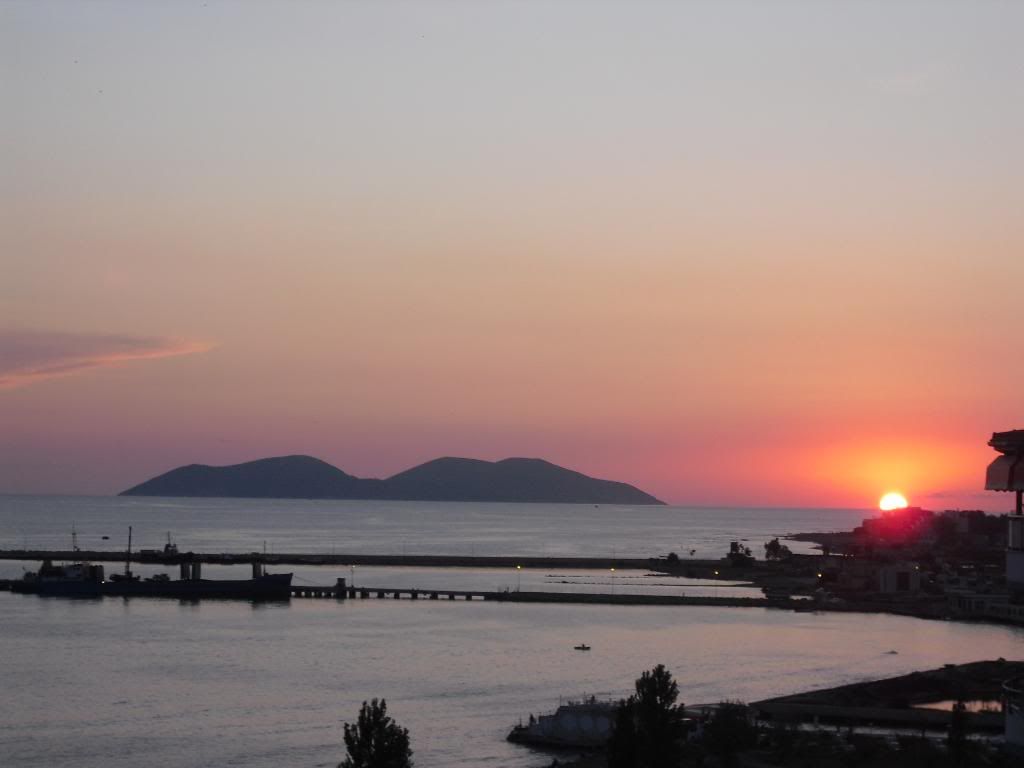 ~~~~


A man dressed in one example of Albanian traditional dress (there are several varieties). This was south of Vlora, but I don't remember exactly where.




~~~~


View of the coast, taken from the side of a mountain. This was somewhere around the area of Dhërmi, a city south of Vlora. If there's one thing I can say about Albania, it's that we have beautiful scenery.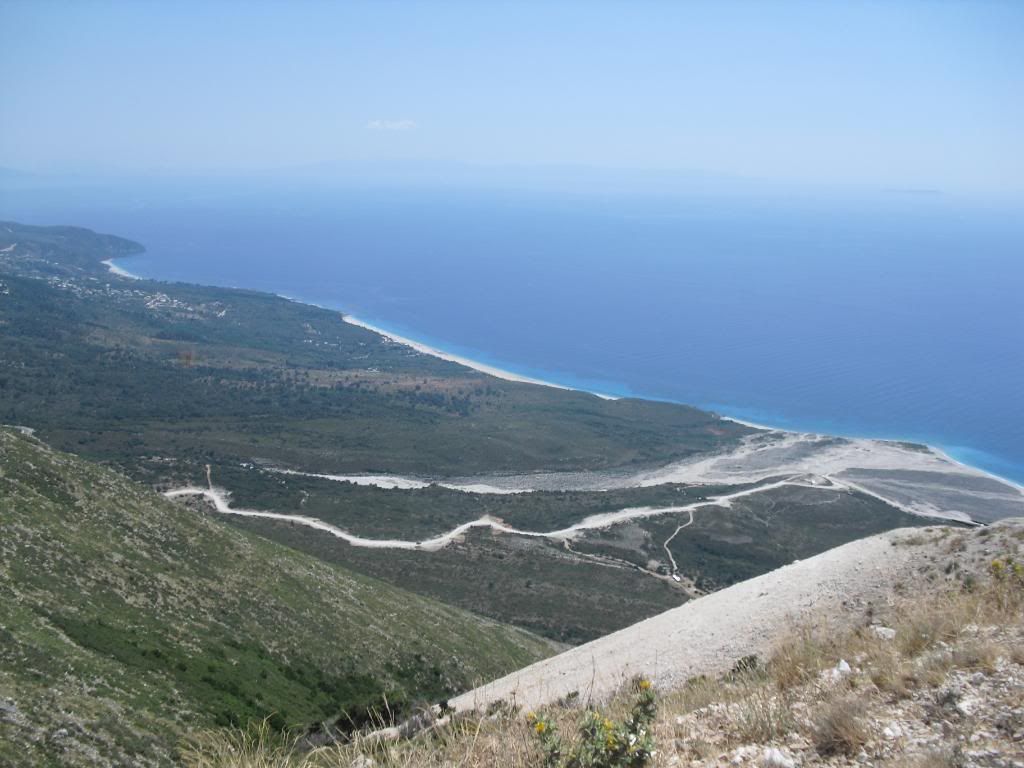 ~~~~


Me feeding deer at the Llogara Touristic Village, in Llogara National Park, also not very far from Vlora. I loved this place, great for tourists and regular people alike.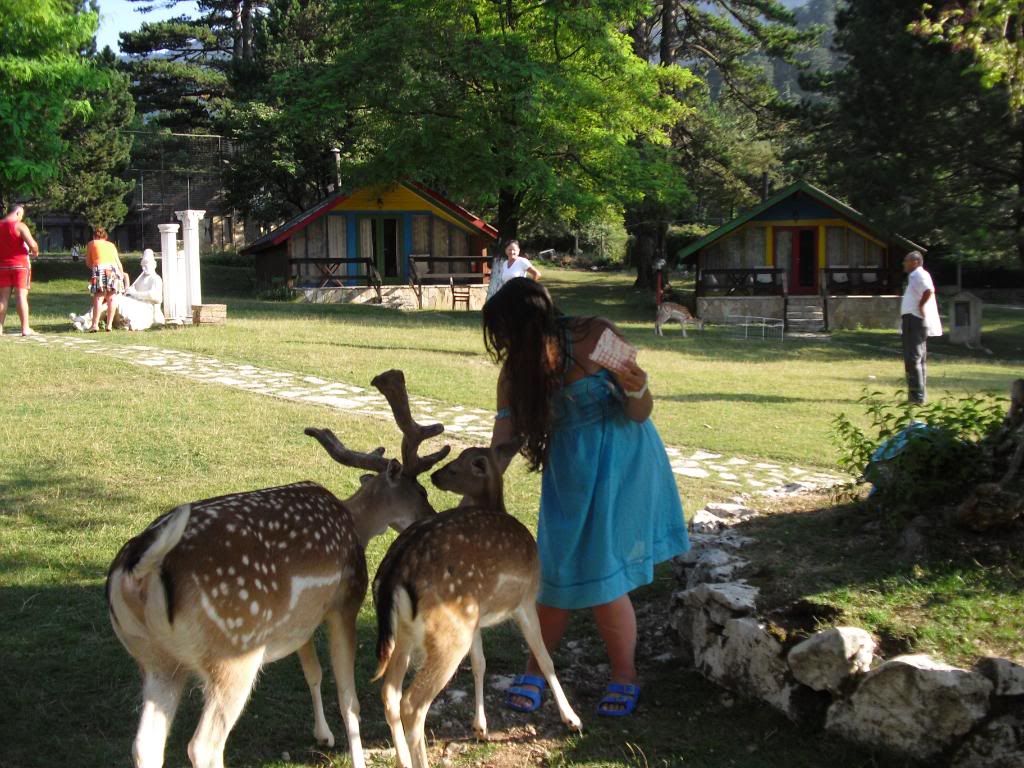 ~~~~


The Independence Monument in Vlora, Albania. Vlora was the city in which Albania's independence from the Ottoman Empire was formally declared on November 28, 1912, by Ismail Qemali.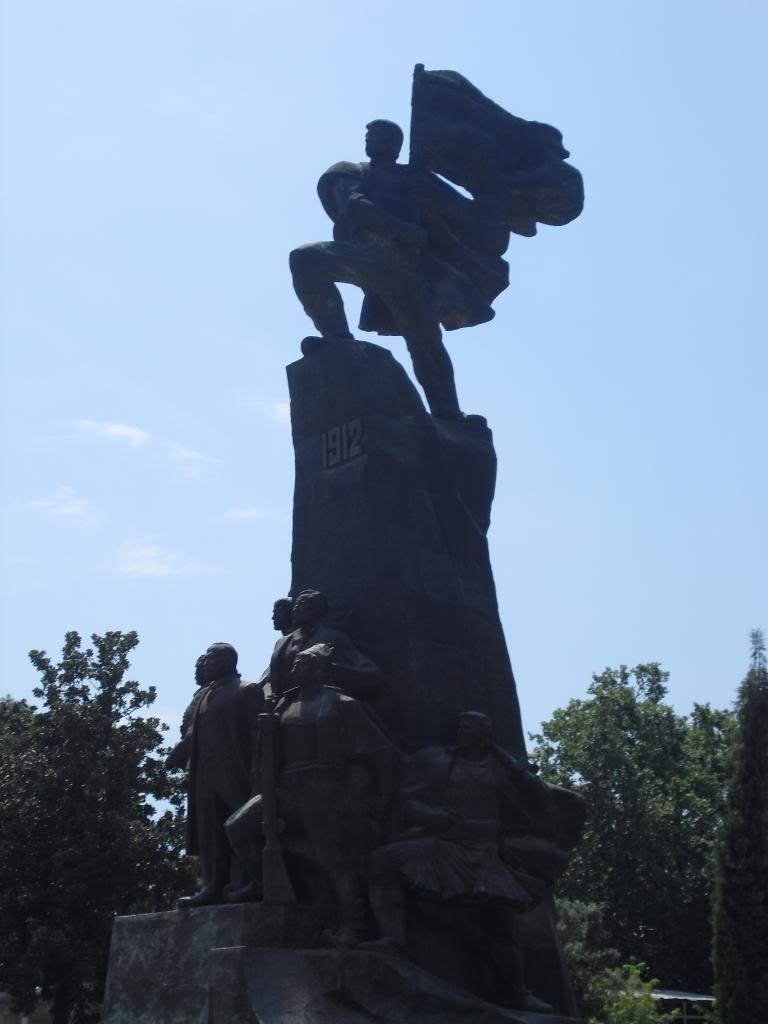 ~~~~


Muradi Mosque in Vlora, Albania. It's a super old mosque, built in the 16th century, still in use today.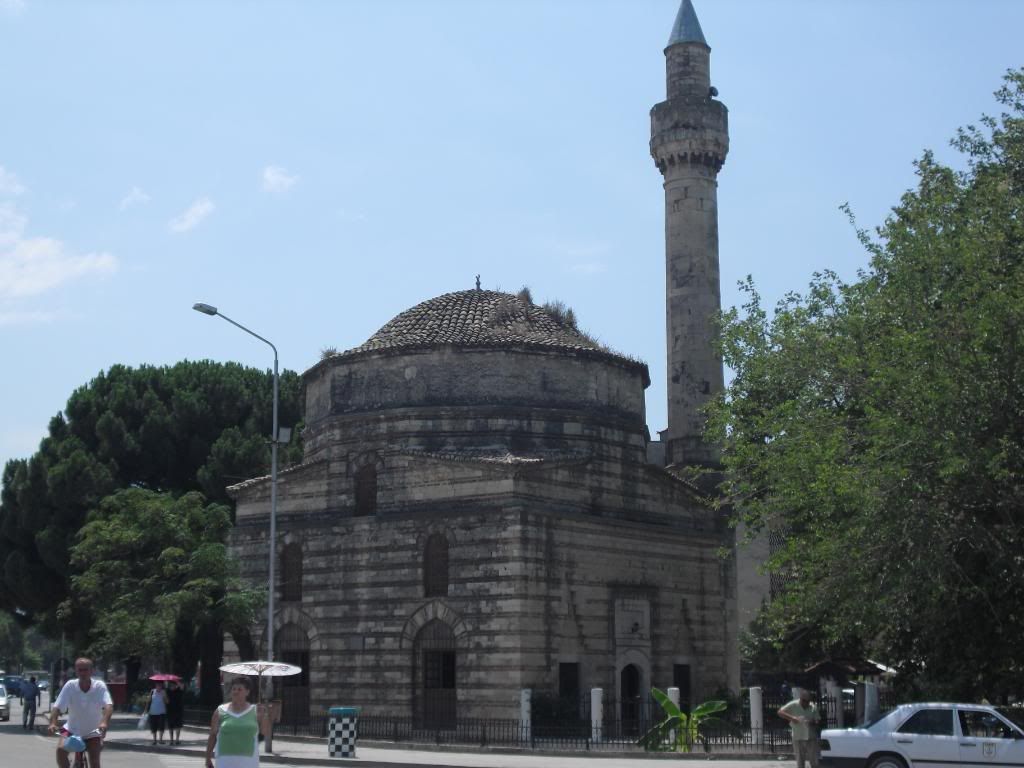 ~~~~


Stadiumi Flamurtari in Vlora, Albania. Home to Vlora's football/soccer team, the Flamurtari. It's incredibly pink.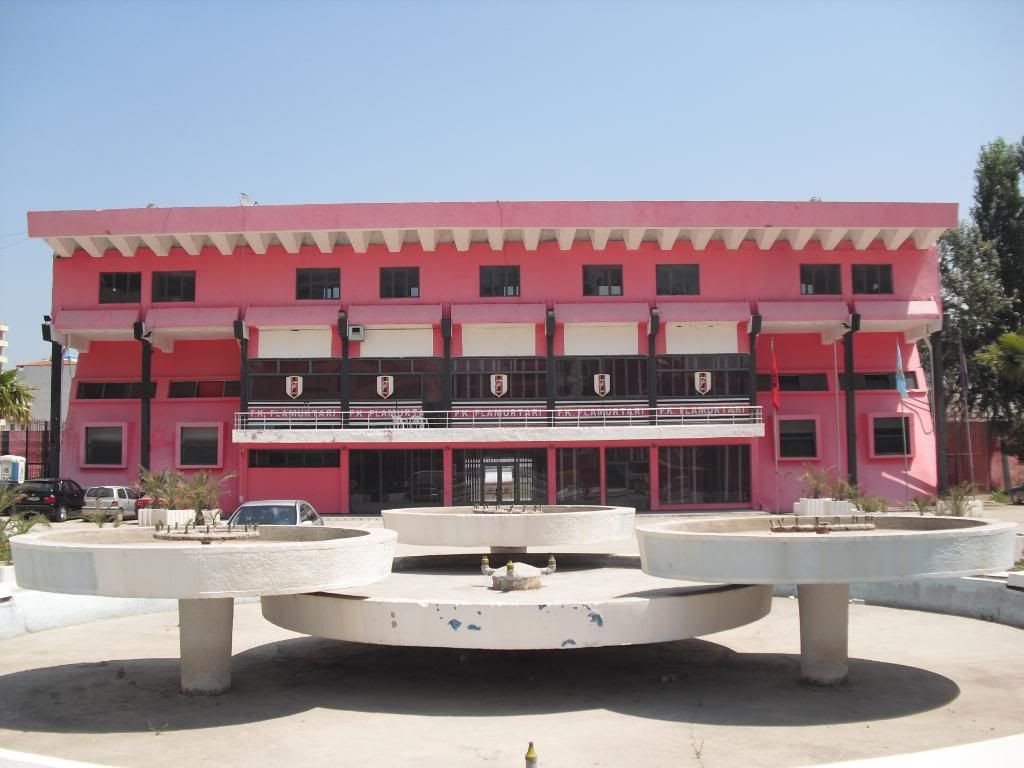 ~~~~


Bridge leading up to Zvërnec Island, north of Vlora, home to the incredibly well-preserved 14th-century Zvërnec Monastery of Saint Mary. A shepherd happened to be there with his goats.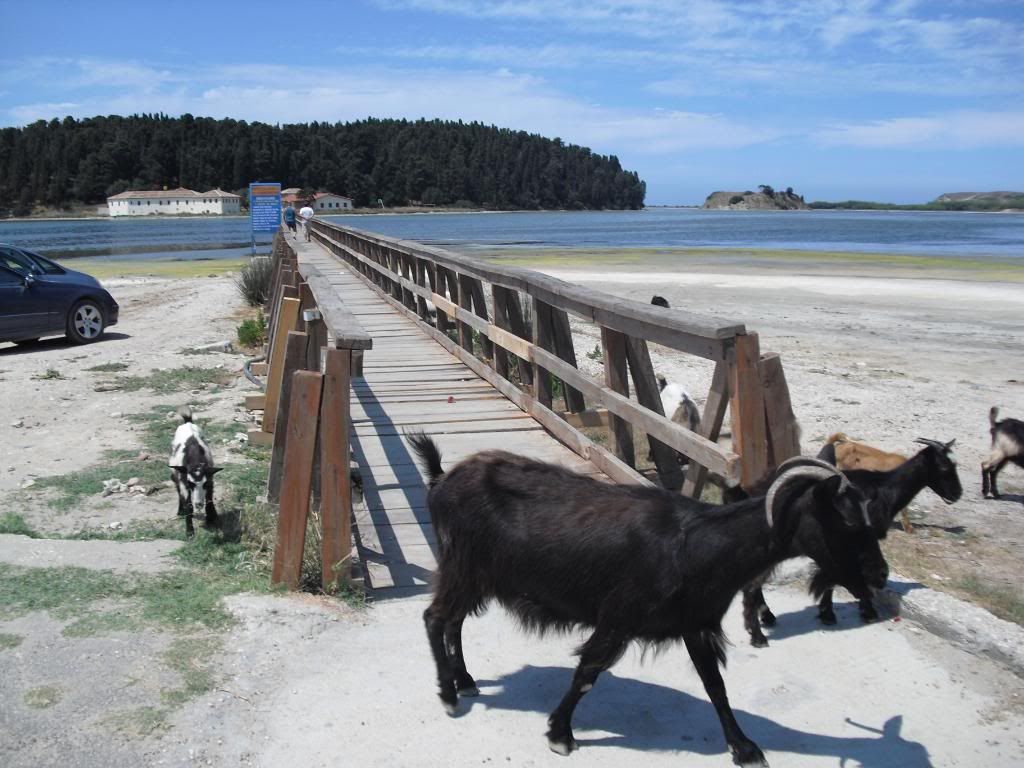 ~~~~


Outside view of the Zvërnec Monastery. That building you see is the church of Saint Mary.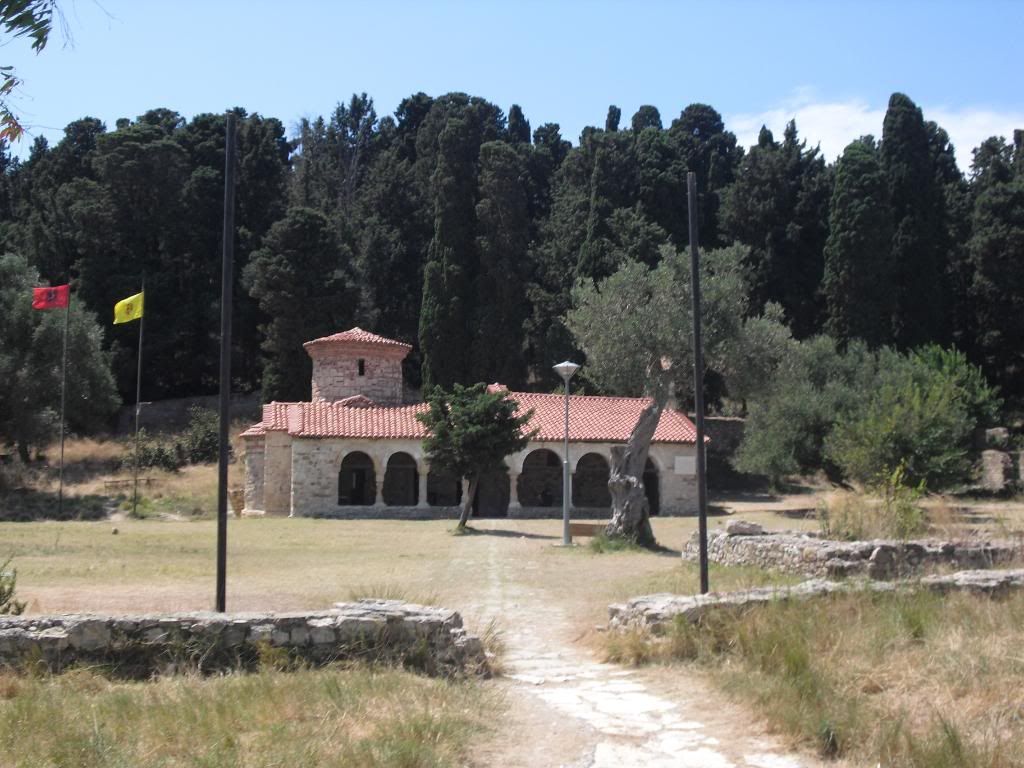 ~~~~


Altar inside the Saint Mary church. You can tell how old it is!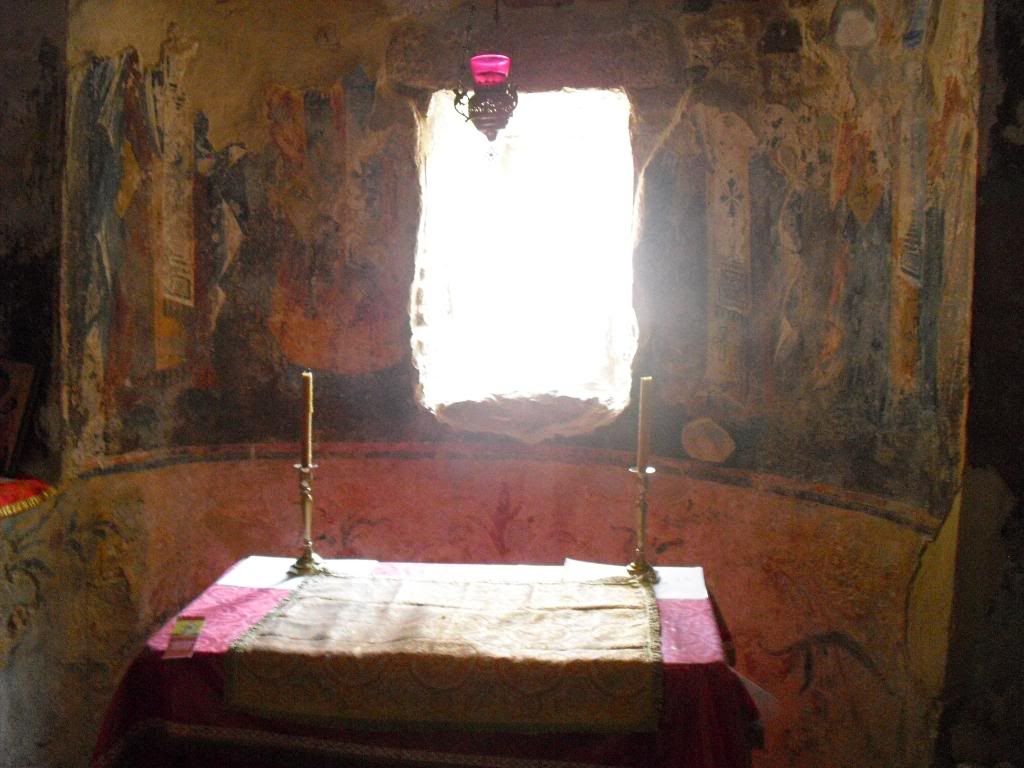 ~~~~


A super old-fashioned iron that we found while bazaar shopping in Vlora. I love the bazaar, you can find the coolest things for some pretty great prices (if you know how to get them).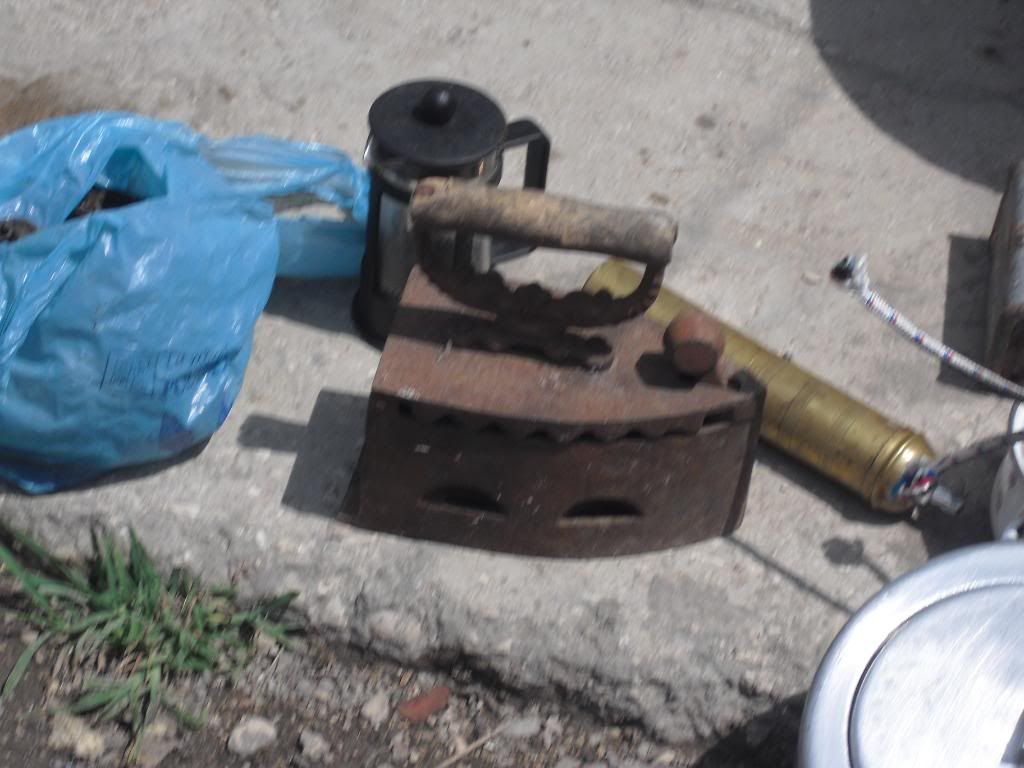 ~~~~


View of the Kuzum Baba from the streets of Vlora. At the top is the Kuz Baba Tekke, the religious center for Albanian Bektashi Muslims. There's also a nice restaurant; it's just a nice-looking place in general. Worth the hike, I think.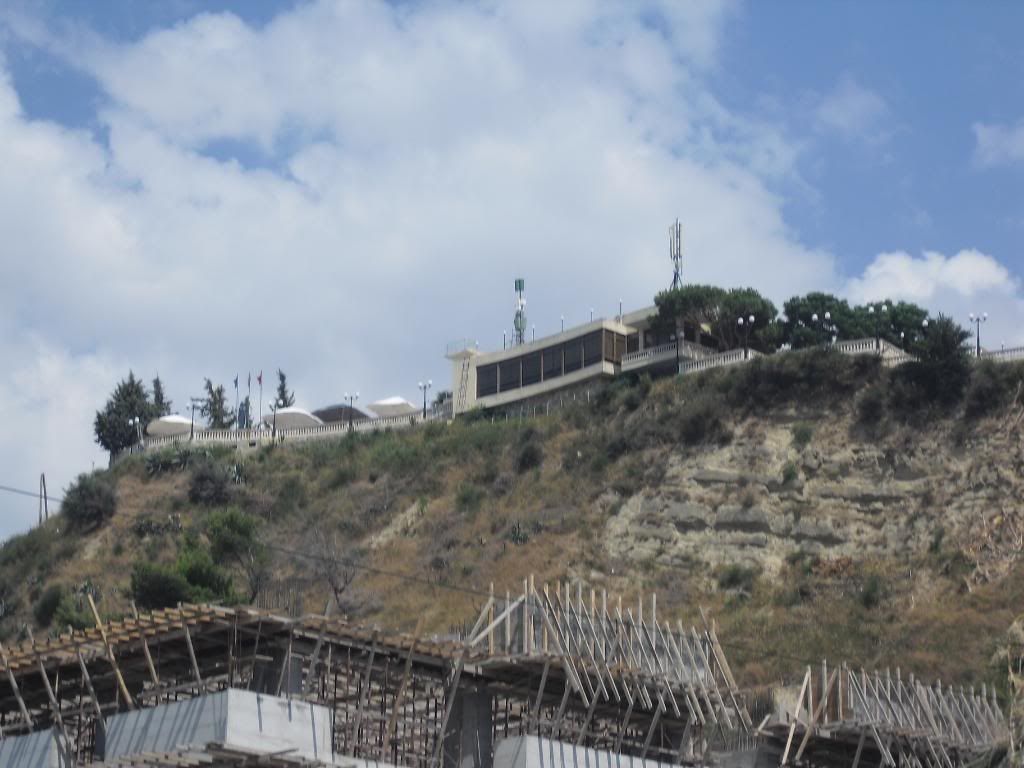 ~~~~


Now we're in Tirana, the Albanian capital! This here is the University of Tirana.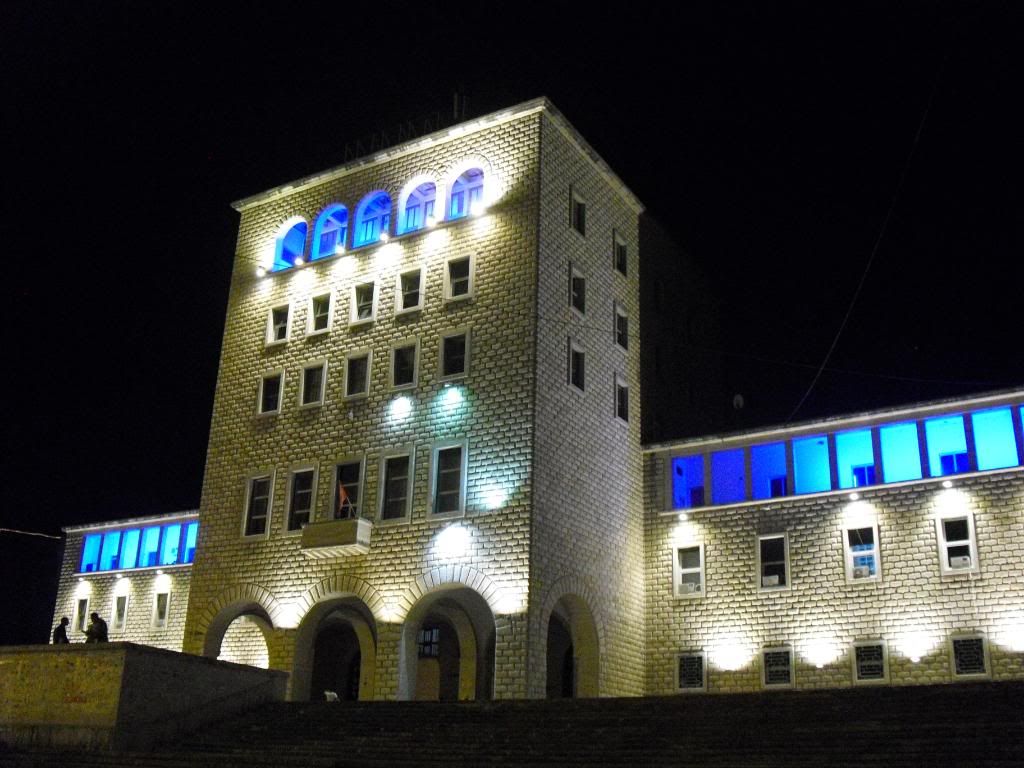 ~~~~


Me and my brother in front of the water fountain in Tajvani, a really colorful and fun area in downtown Tirana.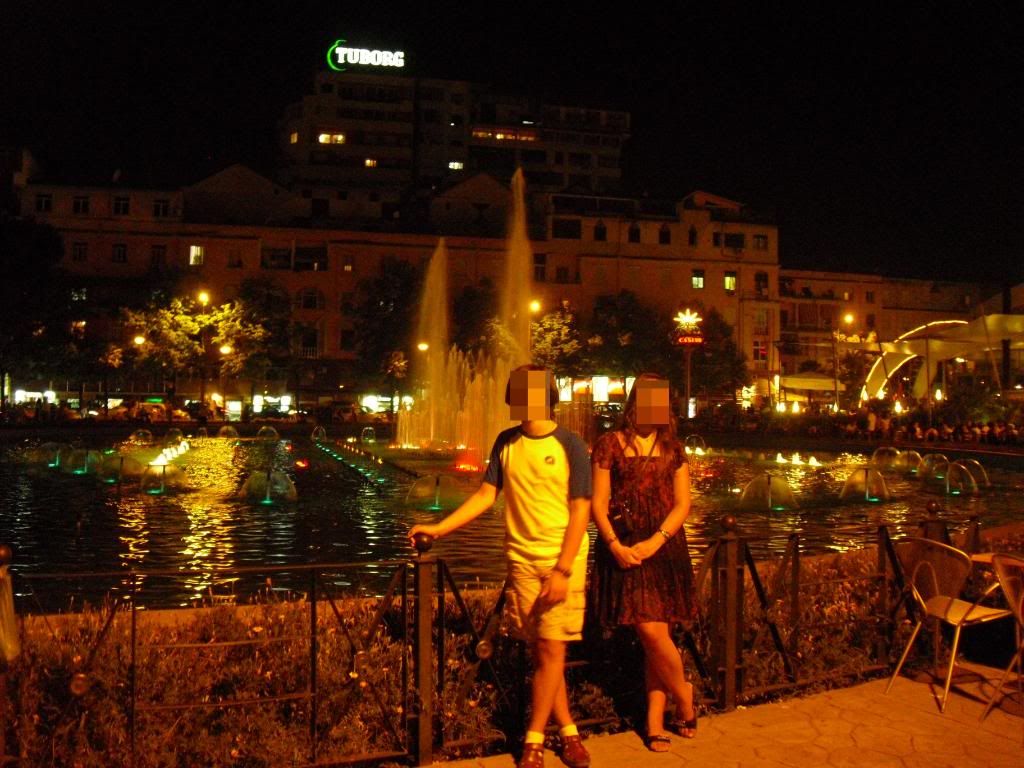 ~~~~


Tirana's Qemal Stafa Stadium. Home of Albania's national football/soccer team.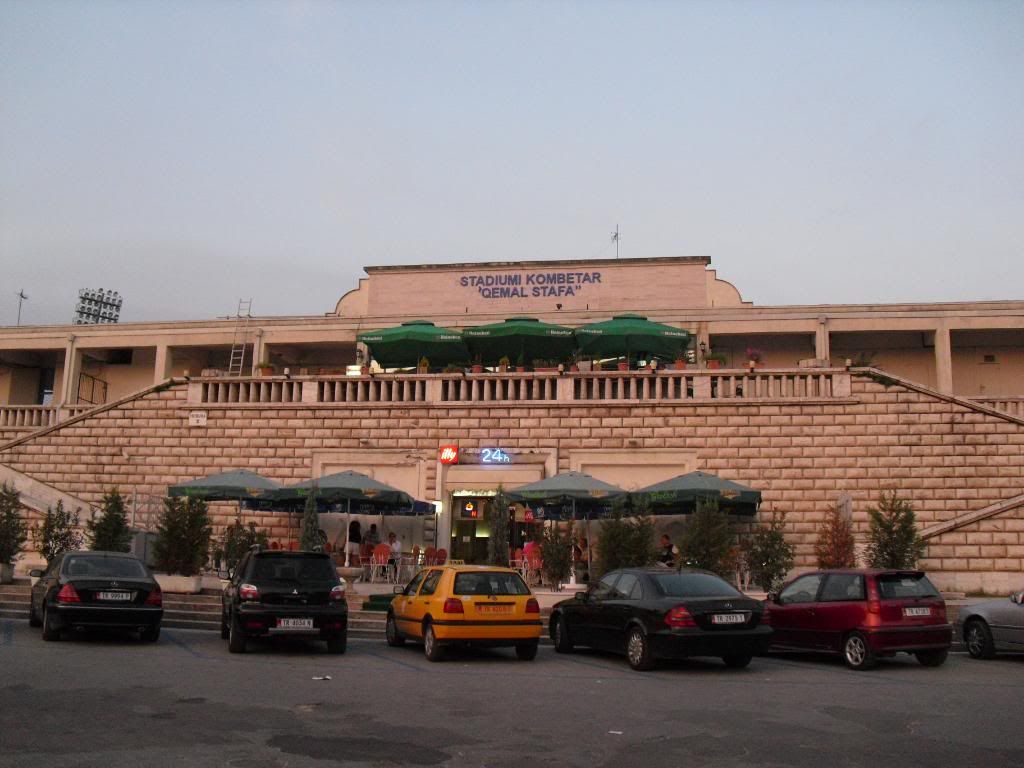 ~~~~


Kolonat in Tirana. It's pretty much Albania's version of McDonald's (which we don't actually have yet).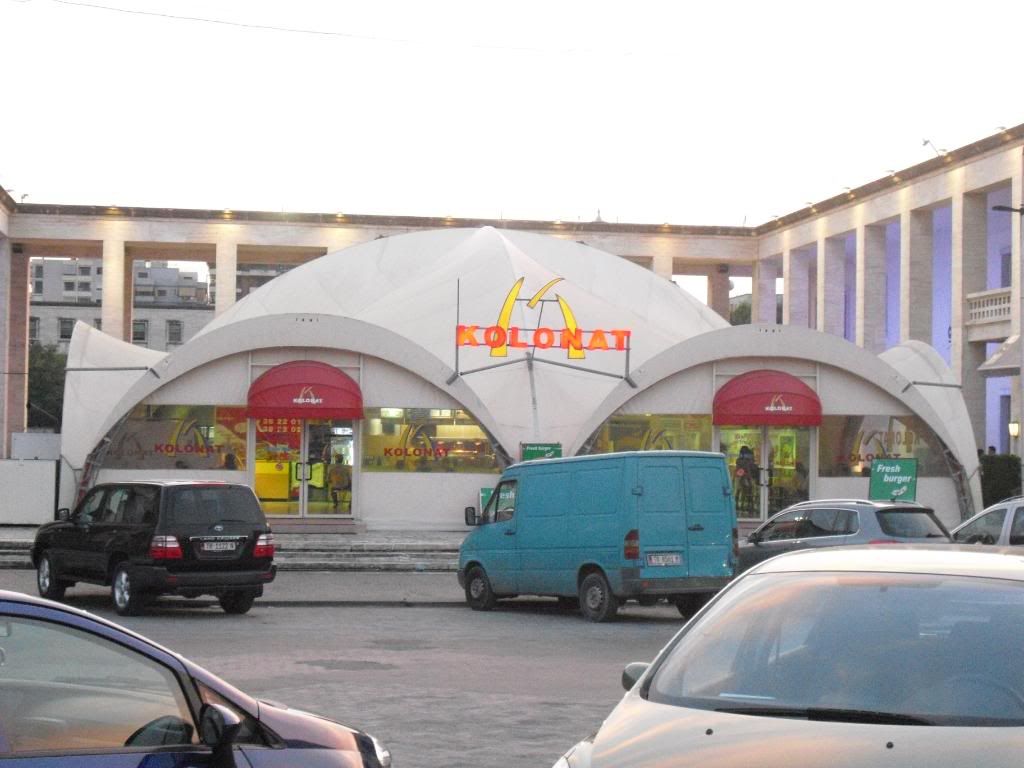 ~~~~


Side view of the Albanian Parliament building in Tirana. I didn't think to get a picture until we nearly passed it, so forgive me for the bad view and not so great quality (I rushed the photo).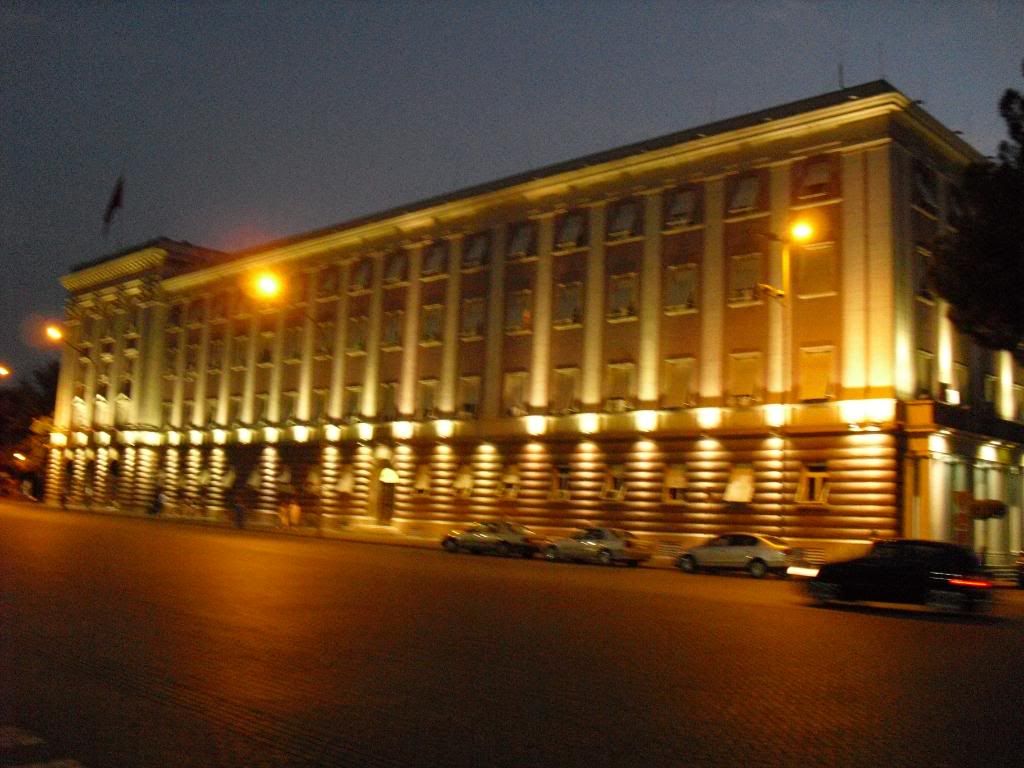 ~~~~


The International Center of Culture in Tirana, also known as "Piramida" to the locals. Kids climb up and slide down its sides all the time, it's really cute. I used to do the same here when I was younger.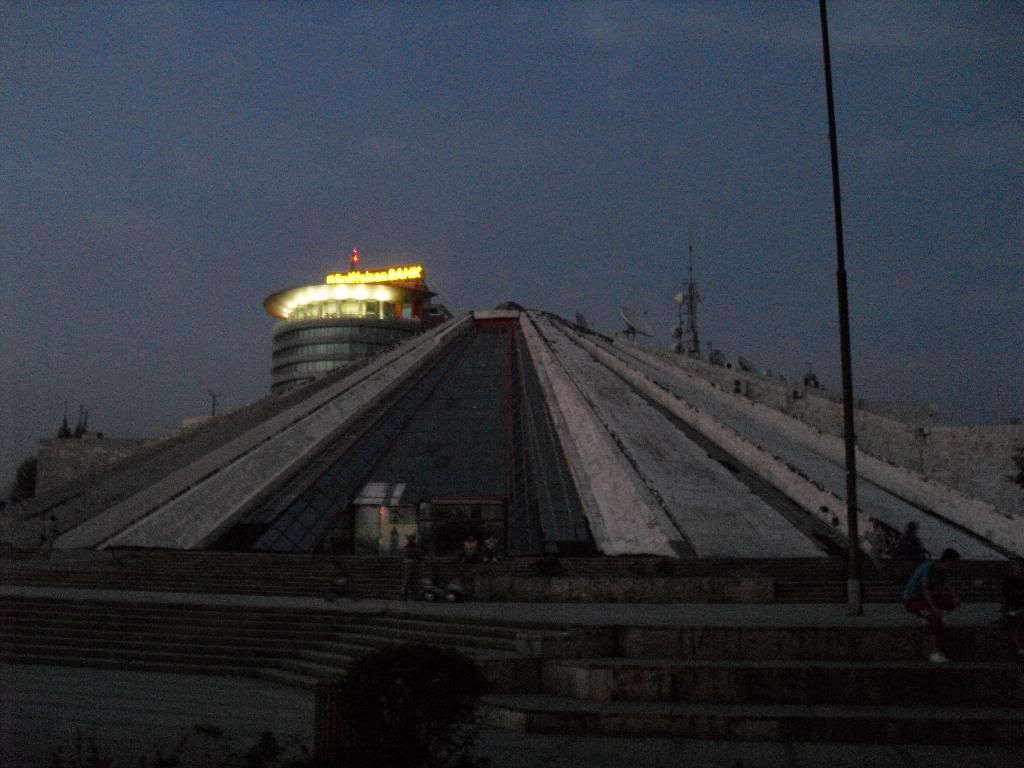 ~~~~


Another example of [female] Albanian traditional dress. This type is more typical of the Tirana region.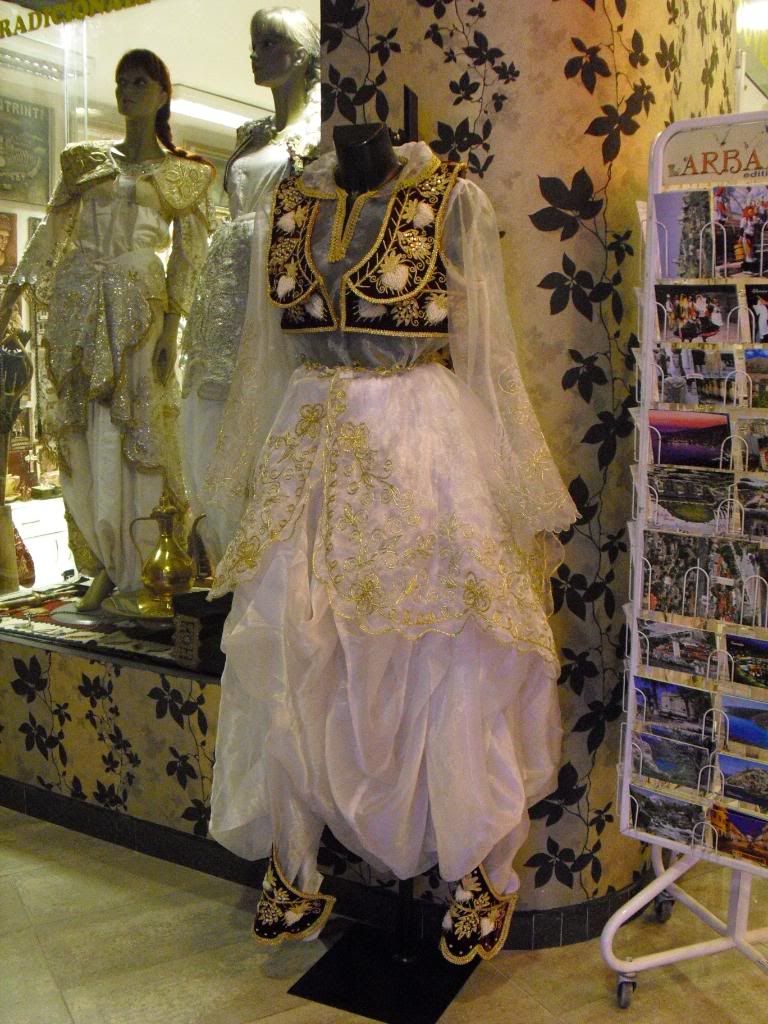 ~~~~


My dad, brother and I sitting down at a pretty cool restaurant in Tirana called "Sofra e Ariut". It's a very outdoorsy place, with several animal enclosures scattered around (several types of birds, goats, bears, etc.), like a small zoo. Peacocks, chickens, ducks, and doves wander/fly around freely (but never outside of the restaurant area, amazingly enough). You can see pictures of some of the animals at the actual Photobucket album (all of them birds, since I'm a bird-lover--sorry for the lack of variety).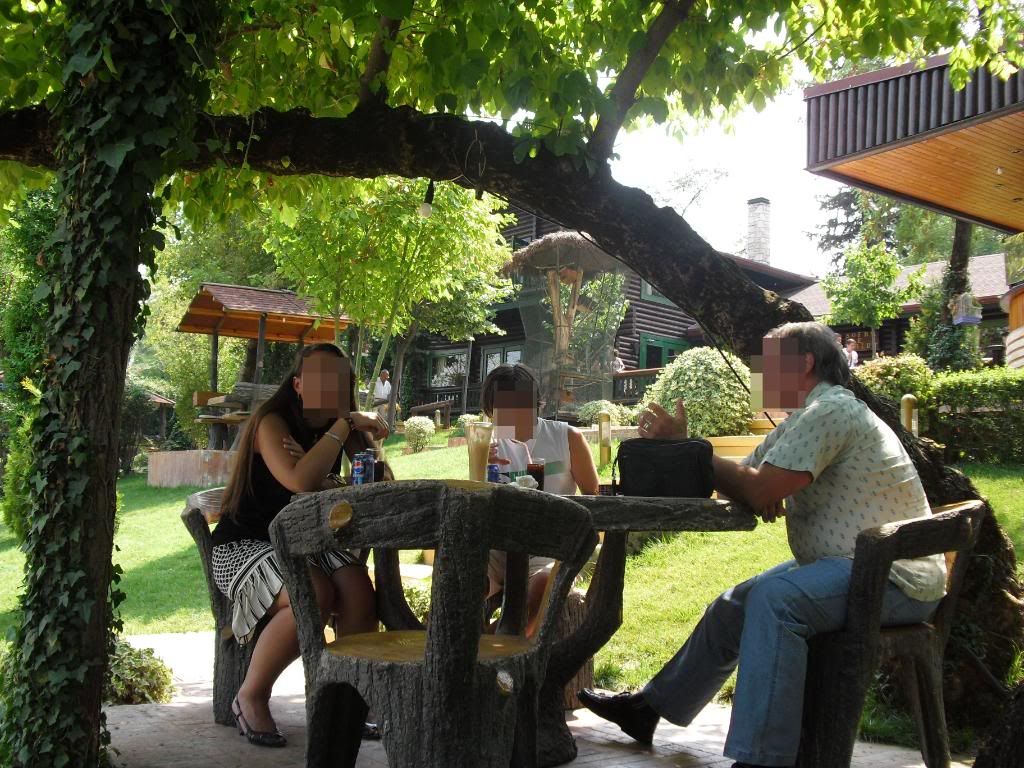 ~~~~


The [mildly] famous Skanderbeg Monument in Tirana. Skanderbeg is the national hero of Albania, for those who don't know, and possibly the most well-known name in the country's history. You can look him up if you wanna know why.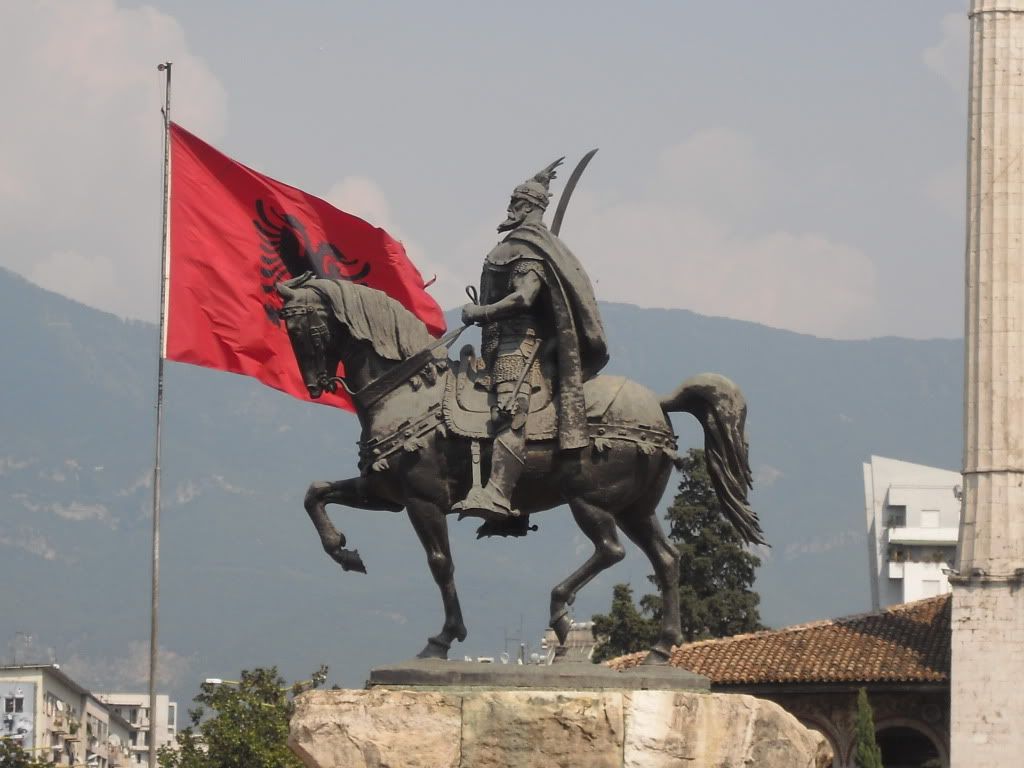 ~~~~


Since most of the people looking at this will probably be Hetalia fans, I thought you might appreciate this. Taken at a mountain-top restaurant near Korça.

Don't mind the A, I only noticed it after I took the picture. Still great that "K-O-L" are the only letters still intact.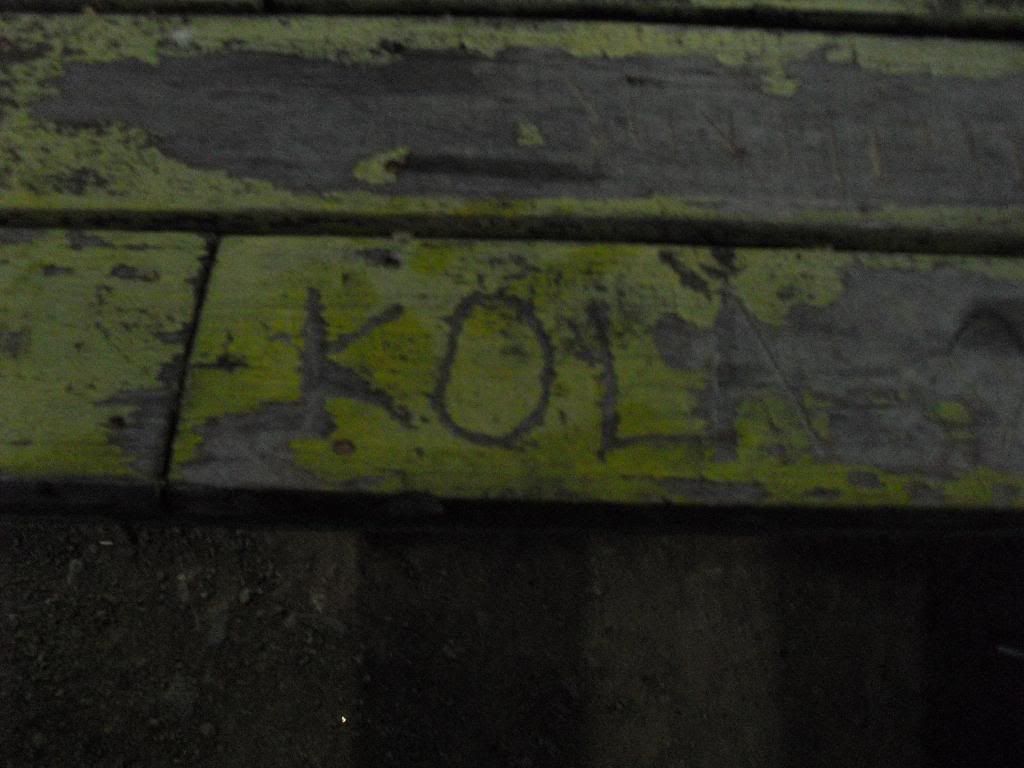 ~~~~


Korça's iconic Christian Orthodox Cathedral of Saint George. I hear it's the second largest Orthodox church in the Balkans (the first I think being in Belgrade?).




~~~~


Fast forward to Greece! We're at the Acropolis in Athens here. This is a view of the Odeon of Herodes Atticus from the Acropolis.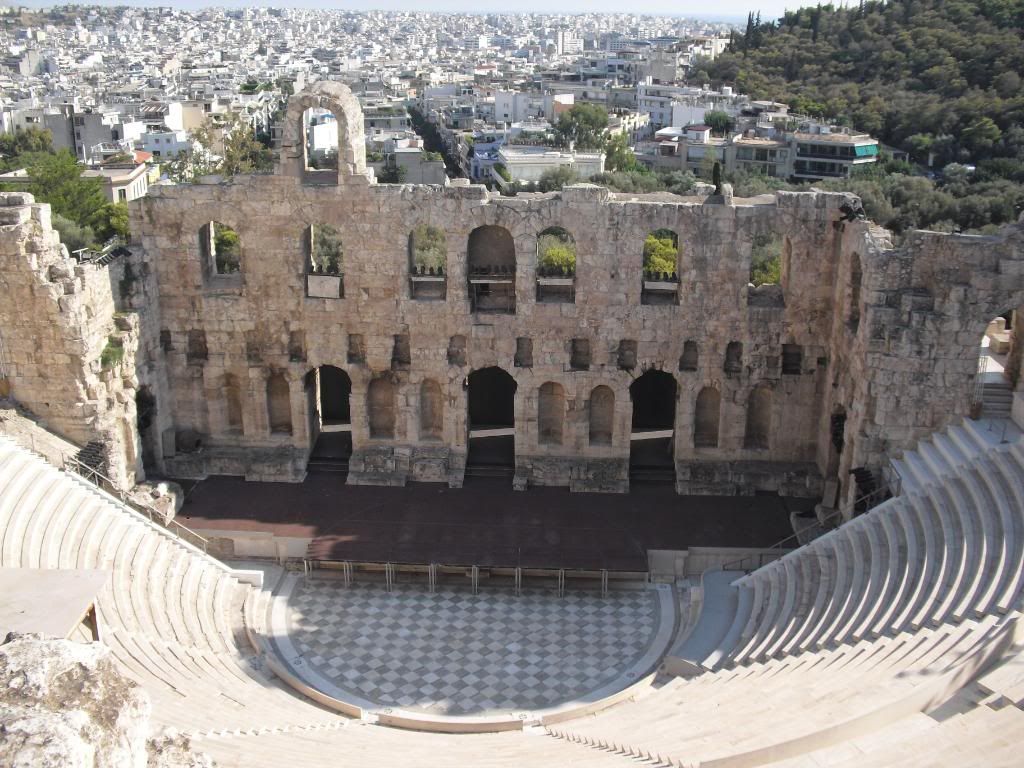 ~~~~


Me standing on the steps of the Propylaea, which is the entrance to the actual Acropolis.




~~~~


Family in front of the Parthenon, at the top of the Acropolis.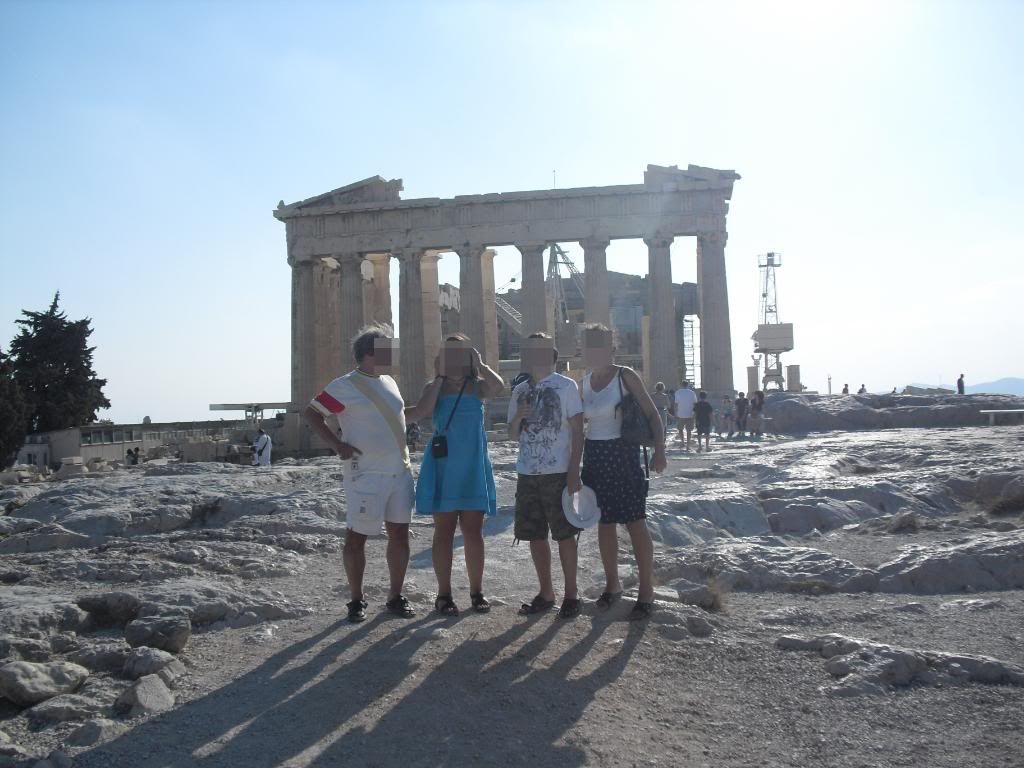 ~~~~


Faraway view of the Acropolis from a street in Athens.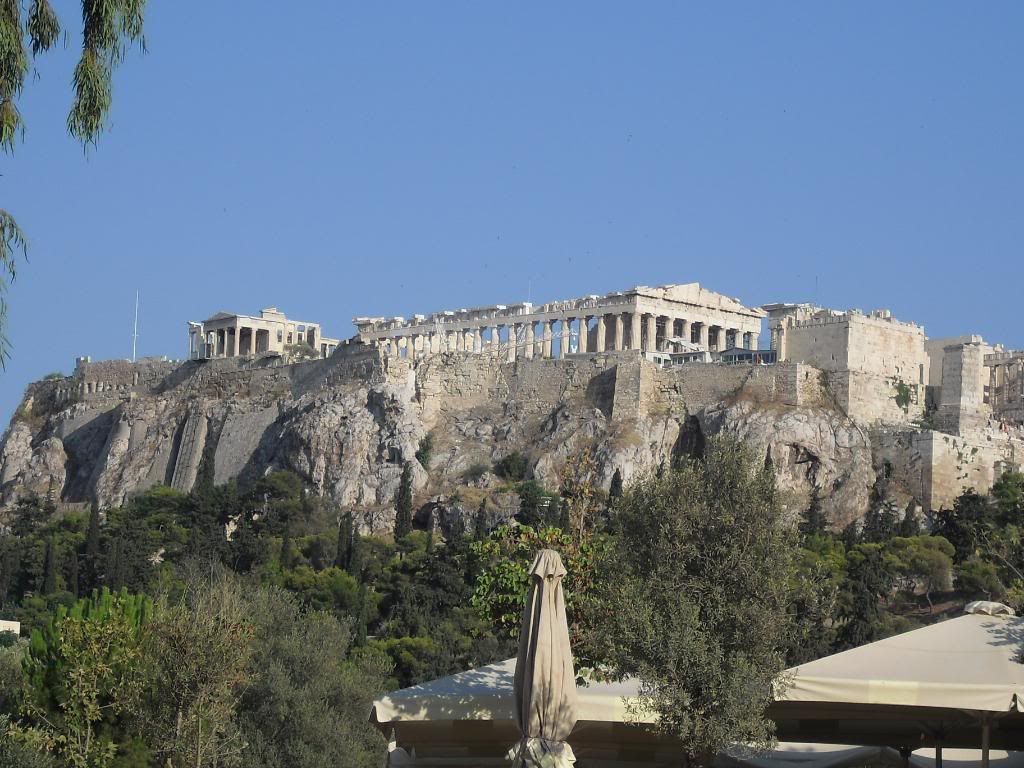 ~~~~
A sign by a building by Syntagma Square in Athens. In Greek and in Japanese. No idea what it says. I actually really, really dislike Giripan (in the romantic sense), but I figure some of you Hetalia fans might appreciate it.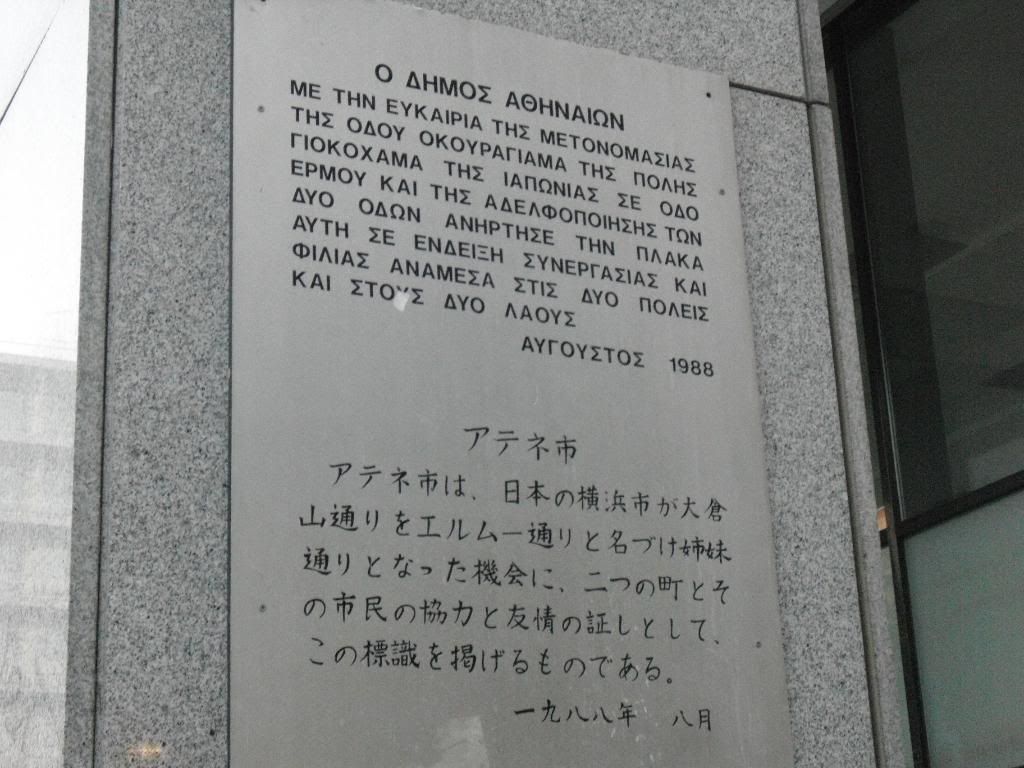 ~~~~
A work of art displayed inside Hotel Emmantina, the hotel we stayed at in Athens. The whole thing is made of pebbles!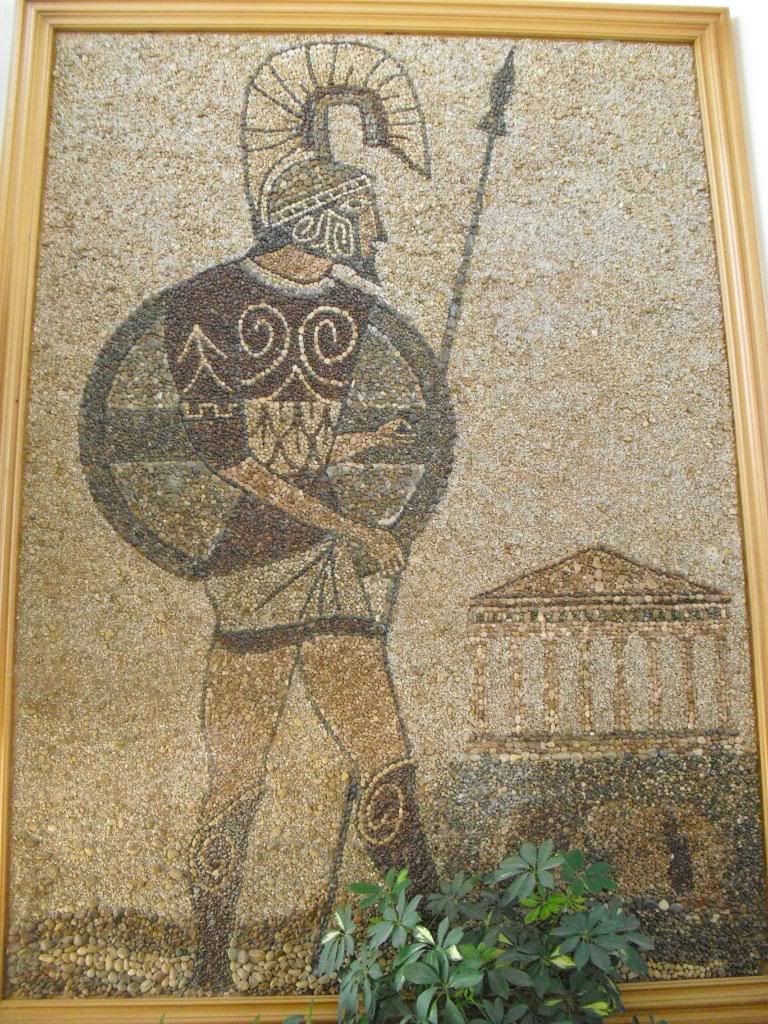 ~~~~
My brother and I (with my awesome Greek hat) standing next to a Presidential guard, in front of Greek Parliament. Hetalia fans might recognize this outfit, yes?
I actually took a video of the traditional changing of the guards, which was an absolute joy and great privelege to watch. And kind of really amusing. For anyone interested, here's the YouTube link.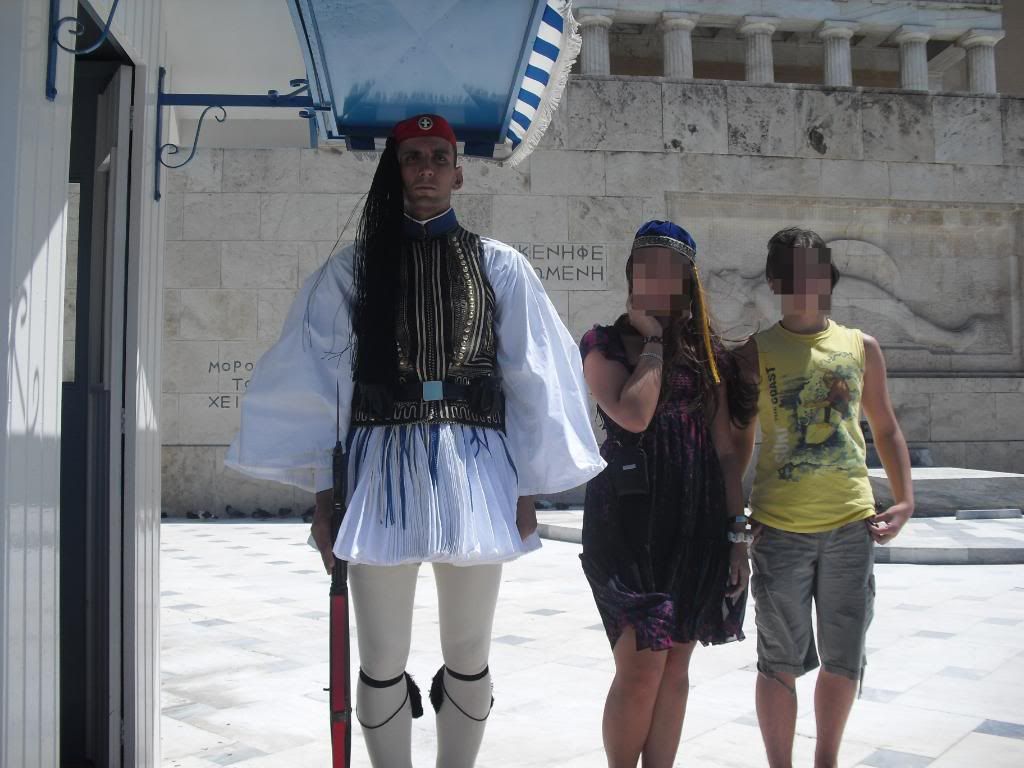 ~~~~


Obligatory photo of the Greek Parliament.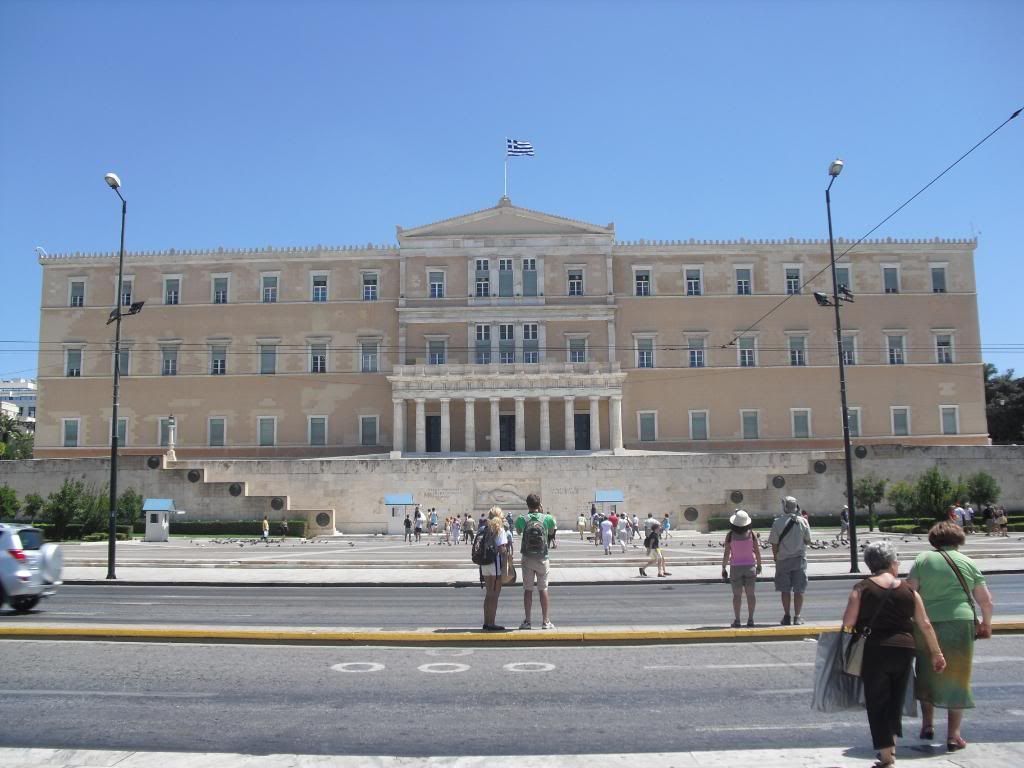 ~~~~


Bazaar shopping in Athens. They have some great, great shirts.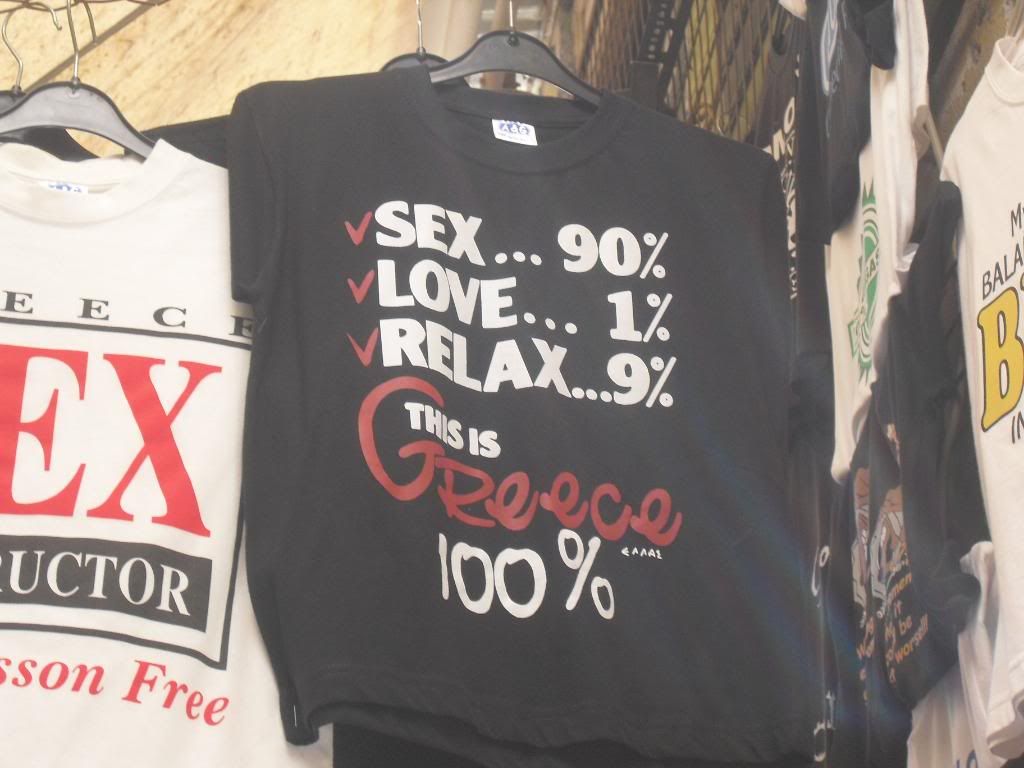 ~~~~


More bazaar shopping. I think any Hetalia fan can appreciate these. I'm both incredibly surprised and amused that I found something like this while I was there.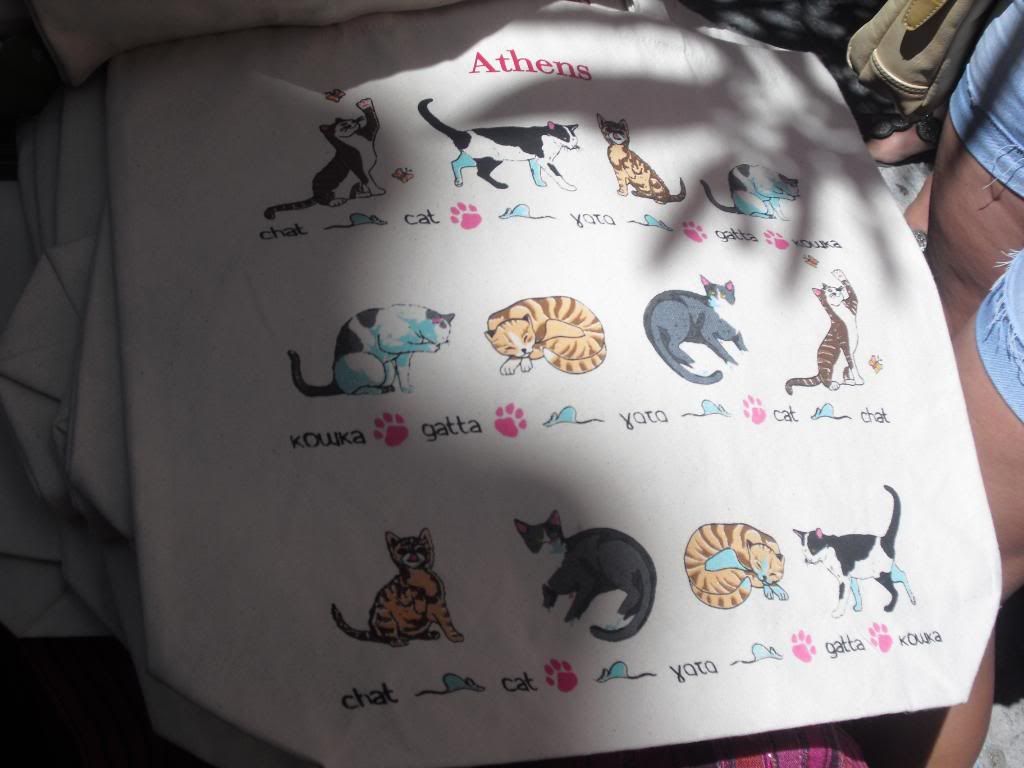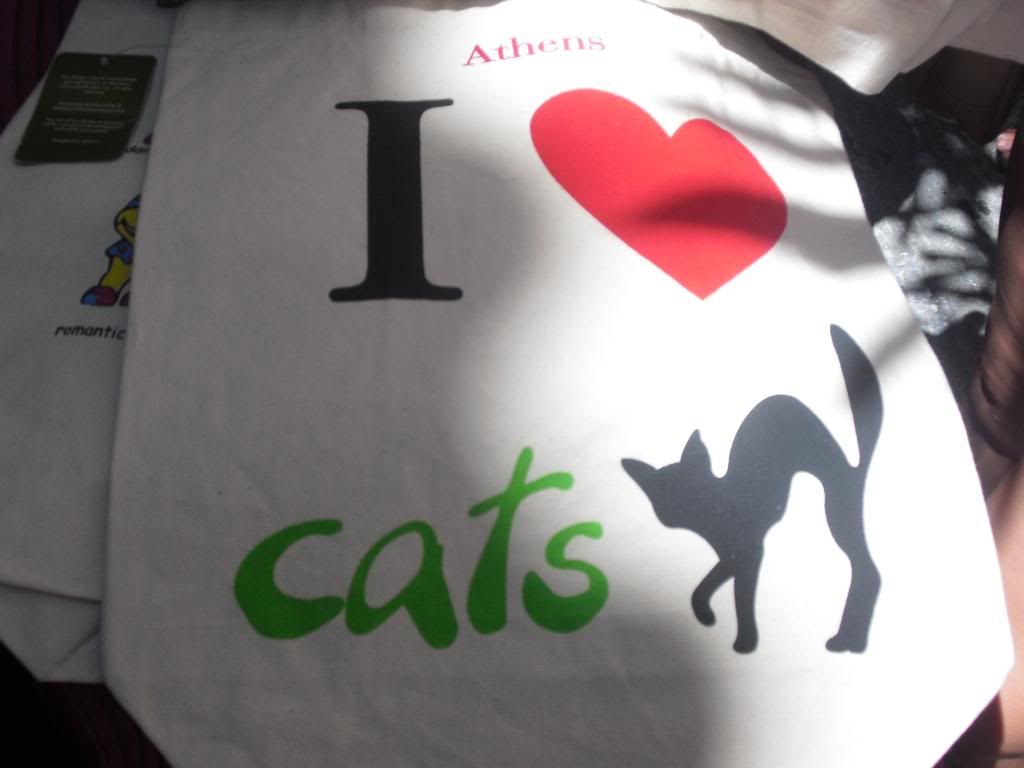 ~~~~


Back in Korça, Albania! This is one of the entrances to Stadiumi Skënderbeu (Albanian name for Skanderbeg) in Korça, home of Korça's football/soccer team of the same name. The stadium's under a lot of construction work currently, so there's not too much to see for the moment.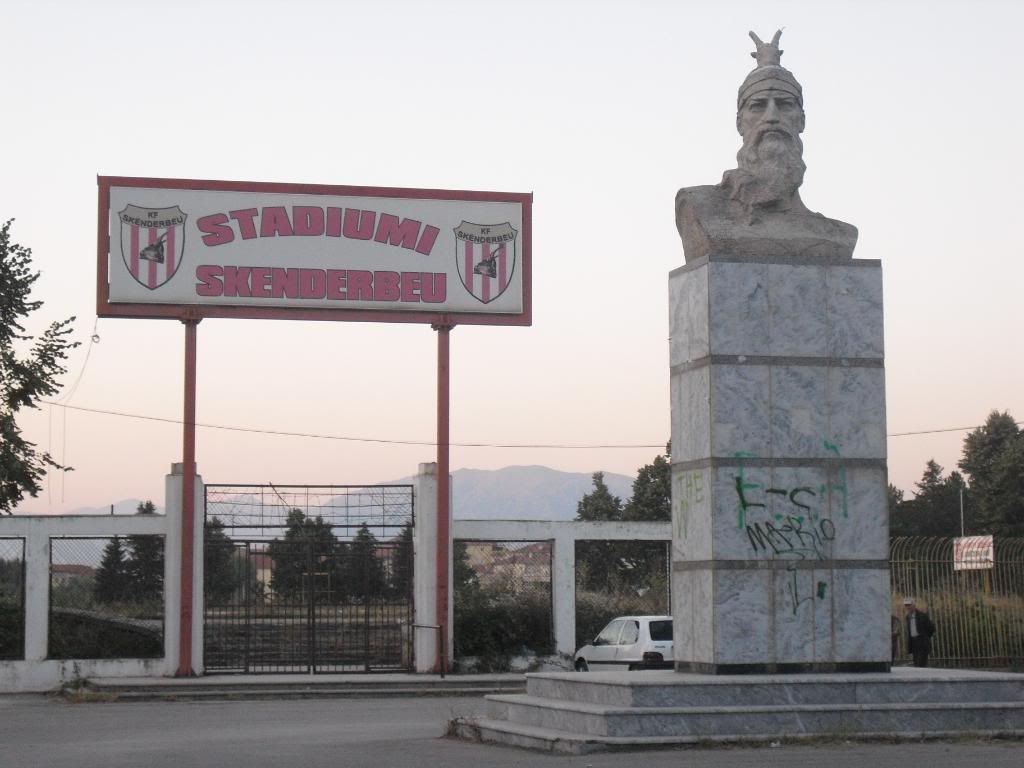 ~~~~


Korça's Parku Rinia. As the name suggests, it's a park. And a very nice one at that.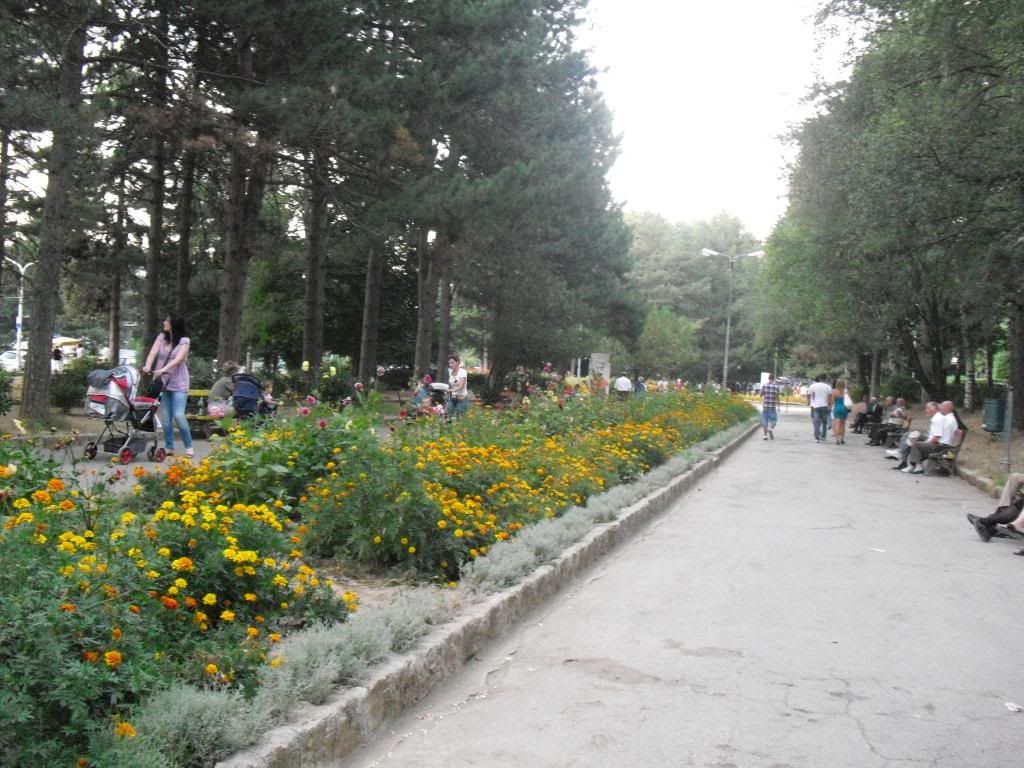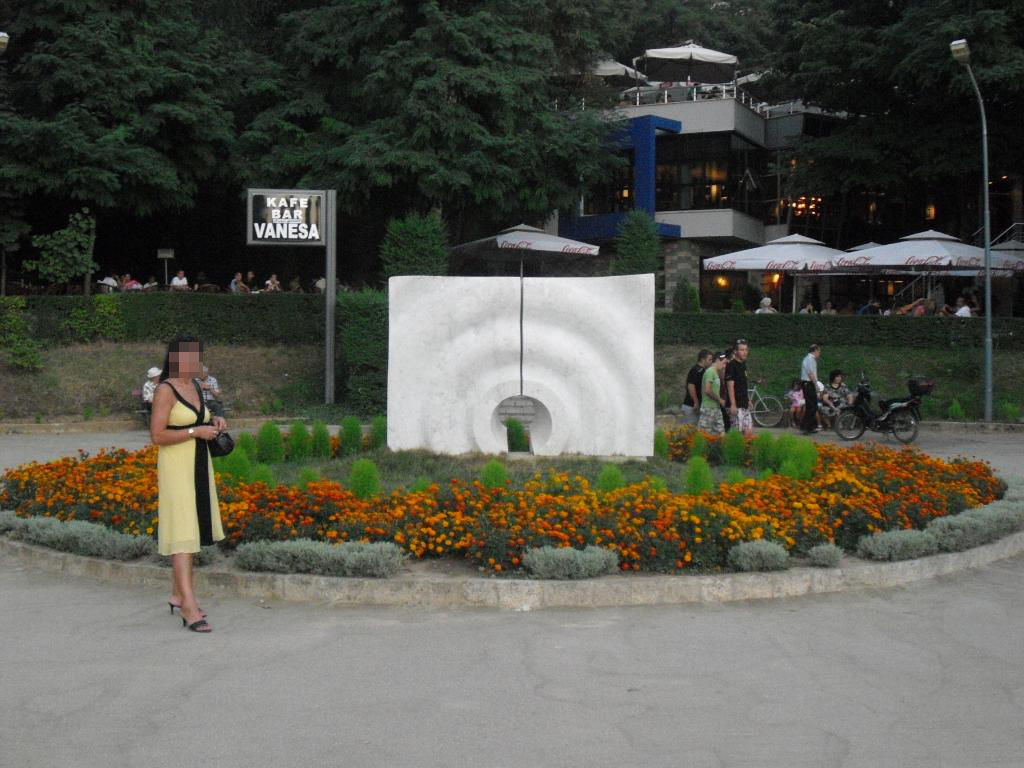 ~~~~
And that's the end of it! At least of the more intersting photos. Again, you can see the real last photos (as well as the ton of others you missed) at the Photobucket album (Albania/Greece starts in the middle of page 3).

Hope you guys enjoyed all the photos, sorry I don't have much else to offer. Actually, I also have tons of videos to offer, but I don't have the time anymore to upload them somewhere. Sorry. :( But yeah, hope you guys liked it all nonetheless!

Click here to see Part 1.
Click here to return to the master entry.